With the new year around the corner, you're probably one of many students worried about the cost of your textbooks, transport fees and what clothes you're doing to be wearing to varsity. Added to that list is the most significant stressor of all: funding your studies!
You have no idea where to start looking or how to get the funds you need to pay for your tertiary education. That's where we come in. In this article, we're going to give you all the tools you need to make an informed decision about funding your studies in the new academic year.

Without further ado, here are 3 ways to fund your tertiary education in 2024.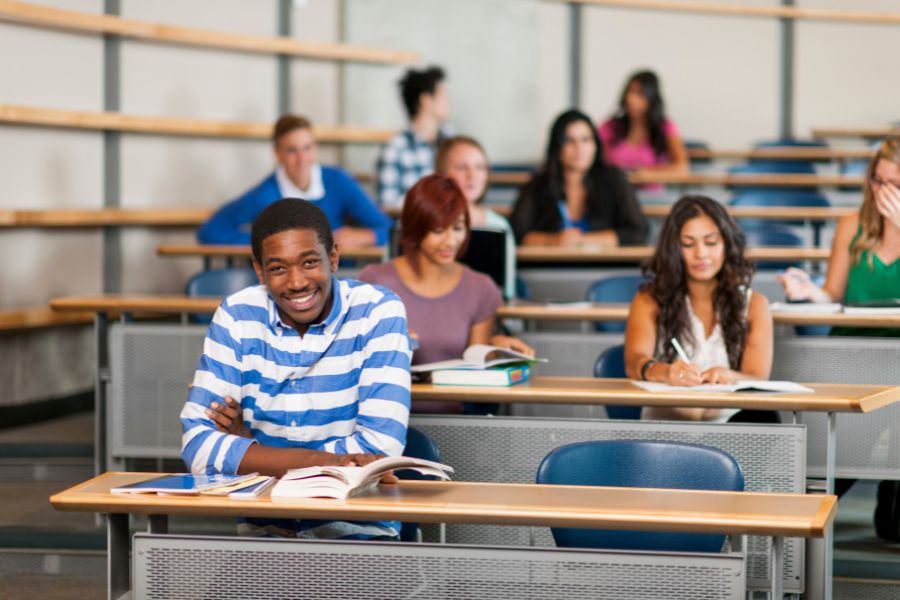 1. Fund Your Tertiary Education with a Student Loan
Student loans are like loans that understand you're a student. They usually have relaxed interest rates and flexible repayment plans. Yes, a loan sound serious, but it can actually be super helpful on your educational adventure.

Applying for student loans is a bit like applying for a passport to your education. You need to research the different options, know the interest rates, repayment plans and fees. It's important to choose a student loan that fits your wallet and ensures you have a smart plan for repayment once you're rocking that graduation cap and gown.

In terms of choosing the best student loan for you, you've got some great options like Fundi and South African banks. These are the superheroes of student funding! They understand the student journey and offer loan options that can make your education dreams a reality. Time to high-five these amazing student loan providers!
Student Funding from Fundi
Fundi is a leading education finance and fund management specialist that is all about helping students like you access quality education. 
Fundi offers student loans that come with awesome benefits—whether you're studying full-time, part-time or even through distance learning—there's an option for everyone. Fundi makes the loan application process a breeze, and their friendly team is there to guide you every step of the way. 
Here's how the funding application process at Fundi works:
How to Apply for a Fundi Study Loan
Ready to take the first step? Before you can start applying for a Fundi study loan, let's first see if you meet the requirements:
You must be permanently employed by the government (e.g.

nurse

). 

You may

not

be under debt review.

You must be earning a minimum of R2,500 (after monthly deductions). 

You must be a South African citizen.
Meet the requirements? Great! Now it's time to apply! You can apply for a Fundi loan by following these steps:
Go to the

Fundi website

.

Navigate to the 'Solutions' section.

Click

'Educational Loans'

.

Select 'Learn More' under

'Study Loans'.

Fill in your details.

Wait for a call from a friendly Fundi agent.
Don't feel like waiting? You can always contact Fundi directly by dialling 086 055 5544 or emailing support@fundi.co.za.
Student Funding from Banks
Banks, your trusted neighborhood option for student loans! Many banks offer student loan packages that suit different needs and have got your back when it comes to financing your education. Just drop by your local bank branch, chat with their friendly experts and explore the options they have available. 
The great thing about the digital age is that you can also save some transport fees and easily apply for a student loan online, meaning you don't need to step a toe outside your door (bonus!).
How to Apply for a Student Loan at a Bank
Whether you're applying for a student loan at a bank in-person or online, the requirements are the same. Let's take a look:
An acceptance letter from the

university

,

TVET

,

or

college

you've chosen.

Your academic achievements, like your

National Senior Certificate (NSC)

, especially if you're currently in

matric

.

Details that show your

study expenses

are covered (think textbooks,

gadgets

, tuition and a place to stay).

A proof of residence—this could be for you or your super supportive guarantor.

Your valid South African ID, but only if you're 18 years or older. If not, your guarantor's ID works too!

The last three paycheck slips from your workplace or your guarantor's.

Your bank statement showcasing the last three salary deposits.
Up to speed on what the requirements are? Awesome! It's now time to take a gander at what South African banks have to offer in 2024. Here's what some of South Africa's major banks are offering in terms of student loans for the upcoming year:
2. Fund Your Tertiary Education Through Government Funding
Student Funding from NSFAS
NSFAS provides educational financial assistance to high-achieving students from disadvantaged backgrounds, ensuring that deserving individuals have access to the public higher education institution of their choice.
The best part is, because NSFAS is a bursary, you don't have to pay the funds back! Now you may be wondering: How does NSFAS work? We're here to show you the ropes. Here's a quick breakdown of how NSFAS deals out its funds:
Getting NSFAS financial aid might sound like a bit of a whirlwind, but trust us, it's totally doable—especially if you've been rocking those good grades in school!
Here's how to get funding from NSFAS: 
Wait for the application dates, which are set to open around end-September 2023 and will close end-January 2024. Once the NSFAS dates are open for applications, send yours in!

Once you've sent your application, you'll go through NSFAS' screening process where they'll ensure you're the right fit for their financial aid scheme. They'll figure out just how much support you need to conquer your educational journey.

After you've aced the screening process (go you!), NSFAS will work their magic by sending a special allowance to your school. This cash injection isn't just for your tuition: It's there to help with all sorts of student life essentials—from registration and food to everything in between. 
You've got the rundown of how NSFAS works, meaning it's time to move on to the next step: Applications. 
In order to apply to NSFAS, you first need to create a myNSFAS account. Don't worry though, we're here to take you through it. Here's how to apply to NSFAS:
Go to the

NSFAS website

and click on

'myNSFAS'

.

Choose 'register' and pick 'acceptance'. This makes sure the information you've given is correct.

Type in your South African ID number, your name and your surname. It should be just like your ID.

Put in your contact details like your email and cell number. If you don't have an email, create one.

Make a strong password and keep it safe.

Upload a copy of your ID.

Tap on 'register' and wait for an OTP (One Time Pin) on your phone or email.

Put in the OTP and hit 'submit'.
After you're done, you'll get a message from NSFAS saying your myNSFAS account is ready to log in to.
Got some more questions on how to apply for NSFAS? Be sure to check out our article, Applying to NSFAS 10 FAQs Answered.
3. Fund Your Tertiary Education with Bursaries
Guess what? You're amazing, and there are people and organisations out there who want to help you succeed. Bursaries are like little gifts that recognise your hard work and talent. Imagine getting money to study what you love—how cool is that?!
Whether you're dreaming of becoming a doctor, engineer or maybe a teacher, listen up! Bursaries are like little boosts that companies and institutions offer to students interested in specific fields. They believe in you, and they're willing to invest in your future. 
In South Africa, there are several places where you can find bursaries to fund your tertiary education. In this article, we're going to look at two bursaries: The Department of Higher Education and Training and the Funza Lushaka Bursary Scheme. 
Bursaries at the Department of Higher Education and Training
The Funza Lushaka Bursary stands as a beacon for those aspiring to become educators. This special bursary programme is all about supporting individuals who are passionate about teaching and making a positive impact on the next generation. 
Let's dive into the details of the Funza Lushaka Bursary to see what it's all about:
Note that because Funza Lushaka is a bursary, you don't have to repay (hooray!) but you are required to work at a public school for the same number of years that you received the bursary.

You would also need to repay the Funza Lushaka Bursary:
If you didn't complete your studies.

If you don't meet the bursary requirements.

If you switch to a different programme that isn't teaching.

If you do not apply for a teaching position at a

public school

(i.e. if you go work at a private school instead).

If you leave your teaching job at the public school before the agreed time is up.
You can learn more about these points, and the Funza Lushaka Bursary, in our article, What You Need to Know About the Funza Lushaka Bursary.
Now that you've explored your options for student loan funding, you might find Fundi to be the financial service provider you're looking for to help fund your tertiary education.
Before you jump into the application process, take a moment to check out the Fundi Loan Calculator. It can help you determine if you meet the requirements. Let Fundi help pave the way for your academic journey today!