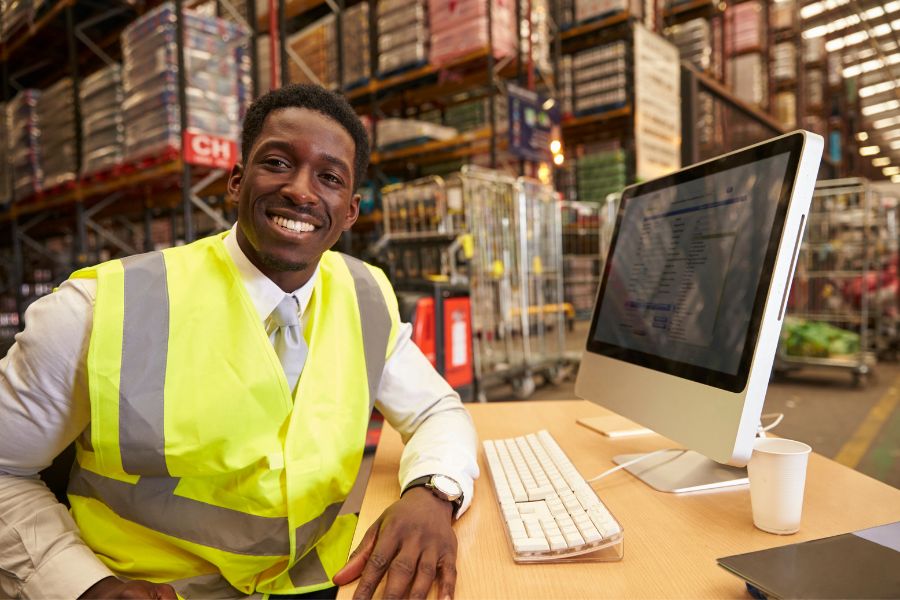 Familiarise Yourself with the Transnet Careers Page
Register Your Account on the Transnet Careers Portal
Now that you're familiar with the Transnet Careers Page, it's time to register your account via the Transnet Careers Portal. As we mentioned before, registering an account allows you to save job searches, track your applications and receive updates on new vacancies that match your profile.
To register an account with Transnet, all you need to do is:
Visit

www.transnet.net

and view the home page.

Navigate to the

Careers Page

by hovering over "Careers" and clicking on

"A Career with Transnet."

 

Click on "Register" and a new page will open with a detailed registration form.

Fill in the registration form and be sure to complete all the required fields marketed with the asterisk (*).

Once you've completed your registration, you will receive a confirmation email sent to your chosen email address.

The confirmation email will contain a link, which you need to click on in order to confirm your email address.

After tapping the link, you'll be taken to a new page. On this page, you will be able to create your Transnet Profile. 
Create Your Transnet Profile
The first thing you need to do is fill in all your Personal Data. This includes all your personal details such as your title, name and surname, gender, nationality, disability, ID, date of birth and ethnic origin.
You'll also need to include the following:
Permanent Residence:

Enter your street/house number, country, postal code and current location.

Temporary Residence (if applicable):

Fill in your street/house number, country, location and postal code.

Communication Data:

Provide your email address, private phone number (if available) and mobile phone number.

Internet References:

This is your chance to show

Transnet

what you're made of! Select the type of reference you'd like to provide (social network, business network, home page, blog or other). Insert your link and add a description of the reference.
Once you've filled in the above information, you'll then move on to your Education/Training. Here, you'll need to tell Transnet about any courses, certificates, diplomas or degrees you've completed throughout your academic journey.

To add your education/training, simply click on "Add" at the bottom left of the screen and you'll see a new window pop up. Here you can add your education and fill in all of the details about your qualification. Fields consist of the following:
Start Date

Country

Location

Education Type (Certificate, Diploma, Higher Diploma, Masters Degree, National Diploma, Postgraduate Diploma,

Postgraduate Degree

, Professional Membership, Training Courses and Undergraduate Degree)

Field of Education 

Subject

End Date

Region

Education Level 

Highest Degree/Certificate

Grade

Description
If you wish to apply for a full-time bursary at Transnet, you'll also need to include your subjects, the level, achievement level and percentage achieved. 
Whether you've worked a part-time job or done an internship programme, Transnet wants to know! You can fill in all your work experience information underneath the Work Experience tab. All you need to do is click on "Add" at the bottom left corner and wait for the screen to pop up. 
In the additional window, you'll be able to fill in all your prior work experience and will need to fill in the following fields:
Employer

Not under Notice (let them know whether you're under a notice period or not)

Start Date

End Date

Country

Region

Location

Industry

Functional Area

Hierarchy Level

Job Title

Description of your role
How qualified are you to work at Transnet? Now's your chance to find out! Transnet has set out certain fields in its Qualifications tab that it would like you to fill that will examine whether you're a good fit for the company.

For example, how good is your eyesight, and how well do you work on a moving train? Are you prepared to work shifts? How about your reliability? Would you say that you can be counted on to do the job?

You'll also need to fill in your Basic Education qualifications, as well as indicate whether you've completed any Advanced Certificates.
To fill in these fields in the Qualifications tab on your Transent Applicant Profile, all you have to do is (you guessed it), click on the "Add" button on the bottom left corner of the screen and wait for the second window to do its thing. 
In this section of your Applicant Profile, it's your chance to tell Transnet what you want out of the job. That's right, it's time to fill in your Preferences! What interests, preferences and expectations do you have? Well, that's up to you to decide.
Luckily, Transnet makes this process quite easy with its dynamic drop-down menus, which list a host of Interest Groups for you to choose from. Whether you're looking for a job in Administration or Engineering, there's something there for everyone.
The Preferences tab also allows you to fill in your Salary Expectations, Travel Expectations, Work Location and Employment Preferences. 
Here is where you can back up your data by adding attachments. Transnet now has quite a detailed overview of who you are, but your CV just adds that extra bit of background and information that will showcase what you can do.

You'll also have the opportunity to add additional documents that you think may increase your chances of getting a job. This includes everything from your driver's licence and formal qualifications to your identity document and more!
You've completed your profile and you are ready to review! Here is where you'll be able to scan over your Transnet Profile and ensure that you haven't made any errors. You'll also be able to see how it'll look to your prospective employers and download the document should you wish to do so.

Transnet also gives you the option of releasing your profile to other employment opportunities and provides a box that you need to tick in order to approve this option.

If you're happy with your profile and have checked all the appropriate boxes, you can click on "Complete" to finish the "Applicant Profile" process.
Browse Job Openings on the Transnet Careers Portal
Next to your Applicant Profile at the top of the page, you'll see another tab called "Employment Opportunities." Select the tab to start browsing for job openings on the Transnet careers portal.
On the Employment Opportunities tab, you can use filters to narrow down your job search by Functional Area, Country, Contract Type and Hierarchy Level. Once you've narrowed down your search, select the "search" button in order to view the job listings available.

If you see a job that interests you, click on it to access the full job description. Pay close attention to the job requirements, responsibilities and qualifications to ensure they match your skills and experience.
Keen to apply for the job on the Transnet Careers Portal? Then be sure to move on to the next step: filling out your job application.
Fill Out the Transnet Job Application Form
Start the online application process by clicking the "Apply" button on the job posting and filling out the job application form. You'll be prompted to enter your personal details, education, work experience and other relevant information if you haven't done so already on the Transnet Profile. Make sure to complete all required fields accurately.

You'll additionally be asked to write a short application cover letter explaining why you are interested in the job and will be able to upload any additional attachments or documents you'd like to include in your application.
Review and Submit Your Application to Transnet
Before submitting your application, review all the information you've provided. Check for any errors or missing details. Once you're satisfied that your application is complete and accurate, submit it through the Transnet Careers Portal.  
Await Your Application Confirmation from Transnet
After submitting your application, you should receive a confirmation email from Transnet. This email will acknowledge the receipt of your application and provide you with a unique application number that will allow you to track the status of your application.

If you're among the lucky candidates to be short-listed, you'll be extended an invitation for an interview, typically within a two to three-week period following your application. However, the response time may vary based on the specific job vacancy and the volume of applications received, potentially leading to longer waiting periods.
Given the high daily influx of applications, Transnet is unfortunately unable to engage in correspondence with each applicant. Regretfully, Transnet cannot provide individual feedback on application status or the reasons for non-selection. Only candidates deemed suitable will be contacted for assessments, which will significantly influence the final hiring decision.
Prepare for Interviews and Assessments
Transnet has a whole bag of tools ready to determine whether or not you're capable of the role. These assessment tools are largely informed by the job you applied for and may include cognitive tests, personality questionnaires, emotional intelligence tests and in-basket exercises.

Should you be chosen for an interview, it's important to remember that making a great first impression really matters. Get ready for that initial meet-up by doing your research, thinking of some questions and making sure you're dressed to impress. 
Plus, don't forget to bring your A-game by showing confidence, a positive outlook and a whole lot of enthusiasm. You've got this!
Get More Career Advice at FundiConnect!