Did you know that the demand for online courses has been on the increase lately? This is because quite a number of South African universities are in the business of introducing free courses with certificates to promote distance learning in South Africa.
This makes it easier for students to enrol in free online courses, which is a great step toward excelling in their future careers.
With online courses, anyone from any part of the world can gain knowledge in any field of interest—for free. All you need is a computer, laptop or tablet; an internet connection; commitment and a self-made schedule. Some courses even offer certifications on completion of the course!
If you're eager to complete an online course but are wondering where to start, don't worry, we've got you covered! In this article, we cover everything you need to know about the best free online courses in South Africa.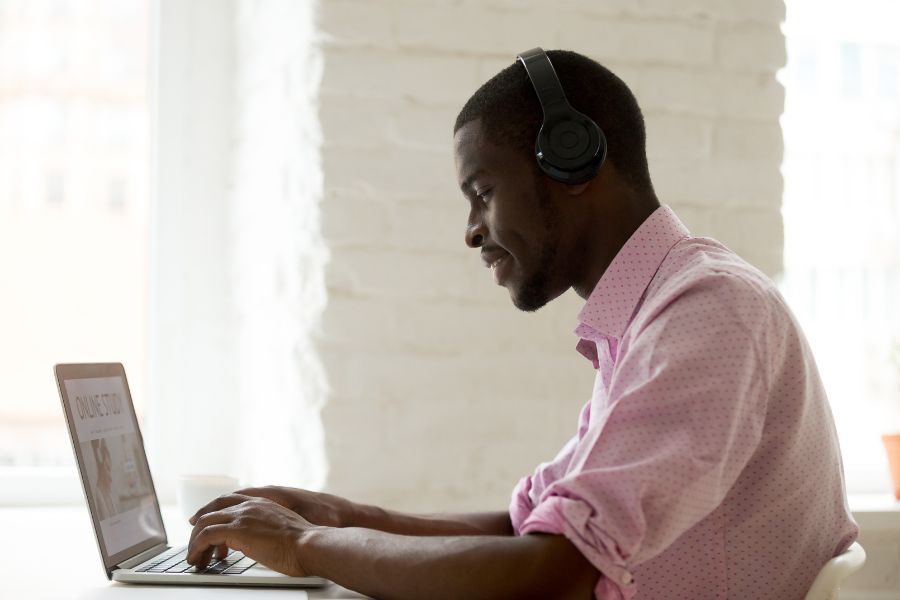 What Are Free Online Courses?
Free online courses are a great way to improve your skills without having to spend any money. There are many different types of free online courses available, so you can find one that suits your interests and needs. You can also find free online courses that offer certification upon completion.
How Do Free Online Courses Work?
Free online courses can be found, you guessed it, online! In terms of how online courses work, all you need to do is register an account on the course website and start browsing for a course of your choosing.
The courses on those platforms are usually developed by universities, expert individuals or by collaborative arrangements between tertiary institutions and individuals (commonly referred to as the 'course creators').
Course creators develop these courses for a variety of reasons, which you can view below:
Course creators want to get their expert knowledge out there into the world as quickly and cheaply as possible

Course creators want to make some money, and opening up their course to the whole world is a great way to get volume, and

Creating a great online course is a good way to get your university's name or your own name out into the world.
The course creators publish their courses on these online platforms, where you, as a consumer, can register for them; however, in some cases, you pay upfront. In other cases, you can do the course for free (and therefore get the knowledge), but if you want the certificate to use as proof in applying for a job, you pay for the certificate.
How Do I Find the Best Free Online Courses in South Africa?
Best Free Online Course Providers in South Africa
There are lots of excellent online course providers in South Africa, making it difficult to choose the right one for you. To help narrow down your options, here's a list of the providers we most recommend:
The below online courses are completely free to complete, however,  students do have the option receive a verified certificate for a small fee.
Another option for students is Udacity, which has both free and paid-for online courses that students can complete. However, they do not offer certificates unless you complete a Nanodegree, which you will have to pay for online with your credit card.
You can also find free online courses as well as specials for most courses on Udemy.
We strongly recommend taking a look at all of these options before starting your first online course. They all have pros and cons. Some, like edX, provide the benefit of having a prestigious name behind the course (like a university). Others, like Udemy, give you the benefit of being able to start and work through the course at your own pace.
How to Choose an Online Course Provider (and a Course)
Picking an online course provider and course depends entirely on the field you wish to pursue. With so many providers and courses to choose from, it's hard to pick one and just get started. Here are a few tips.
Pick Prestige If Your Field Requires Prestige
If you're in a field like finance, for example, and you want to work at a financial institution, then you need to be realistic about the expectations of employers in your field. Financial institutions, like banks and investment brokers, tend to value prestigious MBA degrees and recognised institutions. So you probably want to look at course options on Coursera or edX that have a recognised university brand name behind them.
You can also apply this principle to localised fields. For example, if you are looking for an education in geological engineering, and you want to get a job working at an oil company drilling off the east coast of South Africa, then you might want to look at courses that were created by a university or expert in Africa.
Your future employer is more likely to know of that university or expert, and it suggests that you have more specific knowledge of the area where you're going to work.
Pick Specific Skills If You're in a Technical Space
When choosing an online course to do, remember to choose a course with specific skills relating to the technical space that you're in. For example, if you're in a field of user experience (UX) design, and you want to work as a freelancer or at a small design agency, then you should probably focus on acquiring the specific skills you need rather than paying extra to get a certificate from a recognised institution.
Companies that hire freelance designers, and small design agencies, generally don't care about the pedigree of your education. All they care about is whether or not you're good at design!
So if you're in a field like this, then you probably want to look for courses that offer precisely what you want to learn, because in your case it's more about the knowledge and expertise you will gain, rather than the piece of paper that says you did it.
Generalise and Specialise (Design a Study Programme)
I'm sure many of you just want to do one or two online courses. But for those of you that really want to get a full-blown education online, and spend very little (if any) money to do so, then you need to follow this strategy: generalise, then specialise.
If you're feeling confused, don't worry, we'll explain:
Let's say you want to learn to be a motion graphics animator, and you want to work as a freelancer running your own animation studio. If you do a bit of a market analysis, you might find that there are lots of potential clients looking for help animating their company data. 
To find the correct online course, you would first want to do a few courses in the general field of motion graphics, to show that you have general competence in your field.
Then you might want to look for very specific courses in data visualisation. It may even help at this point to look for courses with some prestige, like a course designed by an institution that is well-recognised for data-related courses.
This will help you not only get the education you need but also carve out a niche for yourself in the workplace, as you become seen as the expert in your specialised field.
Regardless of Your Choice, Finish Your Online Course
It's important to finish your online course once you've started it. There's nothing worse than checking out someone's LinkedIn profile and seeing 8 courses they've 'been working on' but are each only 12% complete. It sends the opposite message to what you were looking for when you started the courses.
Our Top Picks for Free Online Courses in South Africa
Depending on what you want to study online, there are plenty of online courses to choose from. But most online course providers have just a few very popular areas.
Here are a few that we really recommend, if they fit into your chosen fields.
The Udemy Illustrator course is an introductory course for anyone looking to get into the field of design. Adobe Illustrator is the natural starting point, and this is a great course.
Duration: 9.5 hours of on-demand video.
Whether you're brand new to Adobe Illustrator, or have played around with it but need more guidance, this course will help you feel confident and comfortable using the industry-standard vector-based graphic application.
MBA Essentials Online Certificate Course
The MBA Essentials Online Certificate Course will set you back a hefty R41,281. But this course is certified by the United Kingdom CPD Certification Service!
Duration: 10 weeks (excluding orientation)
The MBA Essentials online certificate course from the London School of Economics and Political Science (LSE) is designed to help you understand your strategic environment, master financial details, and drive business success by influencing colleagues and consumers. You'll be equipped with an essential MBA toolkit as you navigate the contemporary business environment, guided by esteemed LSE faculty.
This online MBA-based certificate course from LSE arms you with hard and soft business skills to maximise your competitive advantage and lead with influence.
IBM Data Science Professional Certificate
IBM Data Science Professional Certificate course helps you to pursue a career in machine learning or data science to develop career-relevant skills and experience.
Duration: The IBM Data Science Professional Certificate requires you to complete a total of 9 courses. Each course typically contains 3-6 modules with an average effort of 2 to 4 hours per module. If learning part-time (e.g. 1 module per week), it would take 6 to 12 months to complete the entire certificate. If learning full-time (e.g. 1 module per day) the certificate can be completed in 2 to 3 months.
The IBM Data Science Professional Certificate course bundle consists of 9 online data science courses that will provide you with the latest job-ready tools and skills, including open-source tools and libraries, SQL, data visualization, data analysis, predictive modelling, and machine learning algorithms.
You will also learn data science through hands-on practice in the IBM Cloud using various data science tools and real data sets. After the end of the IBM Data Science Professional Certificate course, you will have built a portfolio of data science projects which helps you to plunge into the profession of data science.
What Do You Need In Order to Start an Online Course?
While universities and colleges have strict requirements for accepting students into their courses, online education providers do not! In fact, most online courses require nothing more from you than:
A stable internet connection
A computer to work on
More advanced courses might require you to have previous knowledge of certain fundamental skills. But, this is just so that they can be sure you will understand the content of the course.
While researching online courses that interest you, make sure you check if any previous skills are required. It is a requirement for a reason—you might not be able to actually complete the course without it.
The most important requirement for an online course is that you are interested and driven to complete the course. Without complete commitment, it can be really easy to let your studies fall by the wayside.
How Are Free Online Courses Different from Tertiary Education? 
1. Free online courses are typically developed by professional institutions, universities, and lecturers – just like traditional tertiary education.
2. All official online courses appeal to international and industry standards, so these courses offer comparable qualifications to universities/colleges.
3. Courses are available in various disciplines, from computer science to photography.
1. Free online courses require distance learning as they usually do not have a campus or formal classes.
2. There are no strict admission requirements for most courses – anyone can study something they are interested in!
3. Universities and colleges award you proof of your qualification by means of a certificate or degree. However, online courses often ask you to pay for the final certificate to prove that you've finished the course.
The main difference between formal tertiary education and free online courses is that you will not always get a free certificate to prove that you've completed the course.
However, some courses award you a certificate of participation or allow you to download your academic record. If you use these documents, as well as a portfolio of the work you did during the course, you can use them as proof that you have studied the relevant skills.
Fund Your Studies with Fundi
If you need assistance with funding, Fundi is here to support you. Fundi study loans provide student financing for tuition costs, textbooks, study materials, accommodation and more.
Be sure to check out the Fundi loan calculator to see if you qualify today!