The world is changing. Careers that exist today weren't thought possible a few decades ago. So, how do you prepare for your future? It starts with choosing your Grade 10 subjects.
Making the Right Subject Choices
Your school journey from Grade R until now was supposed to prepare you to make this decision. What are you interested in and what subjects do you excel in?
Regardless of this preparation, it can still feel overwhelming selecting your subjects. These are the fields you are going to explore for the last chapter of your high school journey.
For Grade 10, you must select the following four (4) compulsory subjects: one official language, first additional language, Mathematics, Technical Mathematics, or Mathematical Literacy and Life Orientation. You also get to choose three (3) subjects from the NSC 20-credit approved subjects. It is crucially important to make the right subject choices. The right subject choices can determine the opportunities available to you and will influence how you can adapt to the ever-changing career landscape.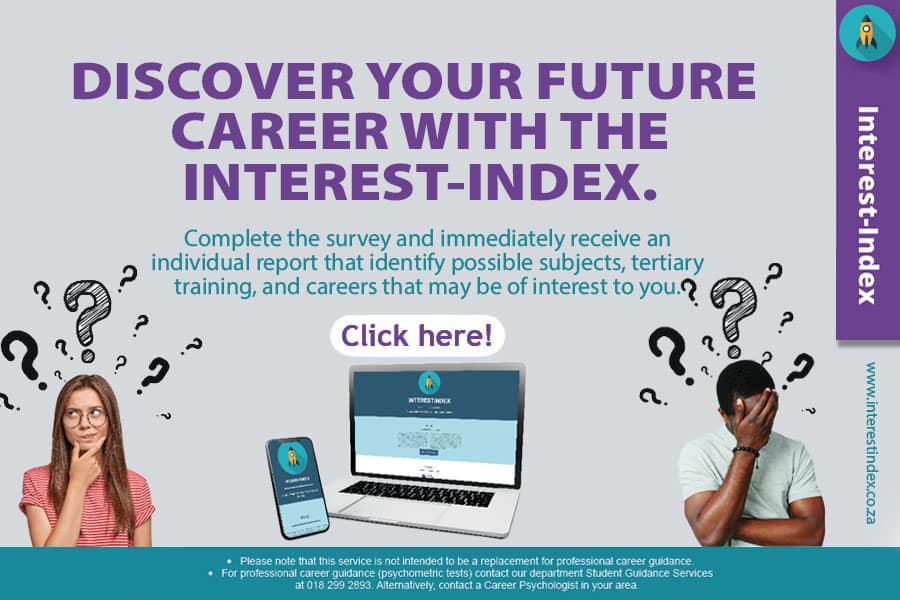 Finding Subject Choices You're Passionate About
A good start is figuring out which subject choices you are passionate about and can master. Each subject has its pros and cons, but in which ones are you still whip-smart? What subject choices align with your natural abilities and with what subjects do you need a little extra effort? Do your current results align with the admission requirements for your future career?
North-West University (NWU) helps you with this starting line. It offers learners guidance to make informed decisions with vocational guidance and has developed a tool, the Interest-Index, to help you discover your career interests. 
Vocational guidance, or career guidance, allows you to challenge preconceived perceptions of the various career paths. Career guidance can shine a light on the many unknowns and enable you to explore various avenues. It equips you to think broader about your goals so that you are prepared to achieve your ambitions.
Career guidance ensures you are career-ready, can identify your strengths and weaknesses, and helps you practically apply your knowledge. It also gives you a strong starting point to make your Grade 10 subject choices.
Professional career guidance is the best option when it comes to subject choices. Trained persons evaluate you based on your interests, values, aptitude, and academic achievements and identify your best possible options.
This service is not always affordable for everyone. However, NWU's Interest-Index helps you match possible careers and fields of study to your specific interests. Learners can complete the online survey which mainly enquires about the activities they like and what they are good at.
Building a Better Future with the Interest-Index
After you have completed the survey, you will immediately receive an individualised report with information about careers and even tertiary courses that may be of interest to you.
Thinking about your career one day is an essential part of the process of selecting school subjects and even choosing to pursue tertiary education. Many aspects influence this decision, including aptitude, personality, and interests. The Interest-Index helps you explore the interest part of your decision to help you become comfortable with your interests. 
Visit North-West University (NWU) Student Counselling and Development to make an appointment for Career Guidance. Or take the FREE Interest-Index survey and get the right start on your future.
It all starts here at the North-West University.